I have to admit, I'm kinda lazy when it comes to recording mix cds. As nearly a year has passed since my last one, it was really about time to get back into business. So I wiped the dust off my SL 1200s and started a little sunday afternoon recording session. Out came a mash-up of some of this year's most relevant dubstep and grime tunes. Forget R'n'G – it's all about D&G!
Download high resolution cover (300 dpi)
Get the mix here.
Tracklist
Kode 9 + The Space Ape: "Kingstown" (Hyperdub 003)
Alter Ego: "Rocker [Plasticman rmx]" (skint 103x)
Lady Sovereign: "9 to 5 [JME rmx]" (island)
Coki: "Officer" (DMZ 004)
Skream: "Midnight Request Line" (Tempa 014)
Chase & Status feat. Riko, Trim + Scratchy: "Top Shotta" (Breakbeat Kaos 012)
Search & Destroy: "Wavescape" (Storming Prod. 001)
Tinchy Strider: "Underground" (Ruff Sqwad)
Akala feat. Riko, Jammer, Ears & Baby Blue: "Roll Wid Us [Dexplicit rmx]" (Illastate 001)
Bigshot: "Girlfriend rmx [Instrumental]" (Southside)
Shystie feat. J2K & Crazy Titch: "Make It Easy [Davinche rmx]" (Polydor)
Toasty: "Guesswork" (Storming Prod. 003)
Toasty: "Angel" (Hotflush 009)
Sick Sense Cru: "Real Sound/They Should Know" (Beezwax Prod.)
Kano: "They Don't Dance No More rmx" (679)
"The Madness Continues… Breakbeat Garage in a Ragga-dub Style"
Mixed & compiled by Danny Bwoy (december 2004)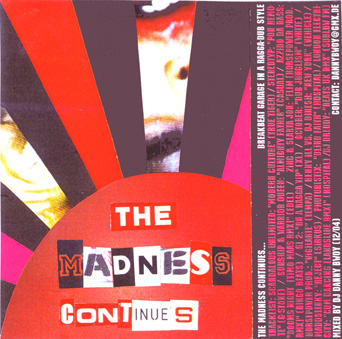 High res cover
Last year's mix is still up at PLAY.FM (big up Jay-S!). You'll have to register with their site (which is for free) in order to load the file.
Tracklist
Scandalous Unlimited: "Modern Culture" (True Tiger)
Stereotyp: "Pon Remote" (G-Stone)
Sunship ft. Warrior Queen: "Almighty Father" (Casual)
Azzido Da Bass: "Dooms Night (Timo Maas rmx)" (Edel)
Zinc ft. Slarta Jon: "Flim (Horsepower Prod. rmx)" (Bingo Beats)
SL2: "On A Ragga Tip" (XL)
October: "Dub Junglism" (White)
Horsepower Prod.: "Vigilante" (Tempa)
Benny Ill vs. DJ Dinesh: "New York" (Vehicle)
Maddslinky: "Reject" (Sirkus)
Phuturistix: "Blind Faith" (Hospital)
London Electricity: "Cum Dancing (Landslide rmx)" (hospital)
Other Guy & DJ Dread D: "Beats UK rmx" (Sublow FM)
Add comment November 8th, 2005