August 13, 2008Dubstep
Interview with Headhunter via instant messenger, late July 2008.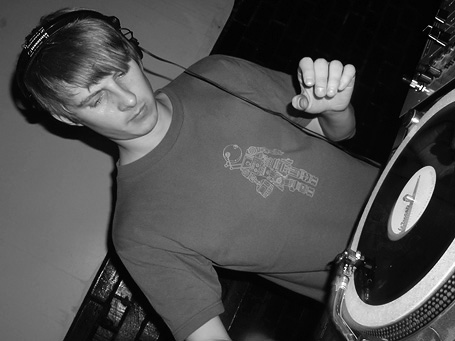 Headhunter @ Freak Camp Session, Berlin, June 2008 (© zoopersound)
When did you start making beats and which kind of music were you into then?
"I started playing records in about 1998, which was mostly drum'n'bass. Teebee was my favourite producer and Subtitles was my favourite label. But there were some tunes that were being released that I could never find on vinyl. So that made me wanna produce. I thought it would be a good idea to make the same record rather than find the record."
Which record was that?
"It was called "Back For More" by Influx Datum. I looked and looked [for it]. All I had of it was one minute on a tape. The simple loop [it had] was really nice. It was [the time] when the term 'liquid' was a good term and [the tune] was pretty fresh."

Influx Datum: "Back For More" (Formation Records, 2002)
Did you finish your "version"?
"I had no idea how to even install Cubase! So, no I never [finished it]."
How old were you then?
"In 1998? Sixteen. I started making D'nB at about 17, but had no idea what I was doing. Nevertheless, I kept at it and met some key people in Bristol like Tech Itch, [the] Ice Minus guys, who gave me help at the start. I eventually evolved into making breaks and then at about aged 21 decided to stop because I was too much into my BMX."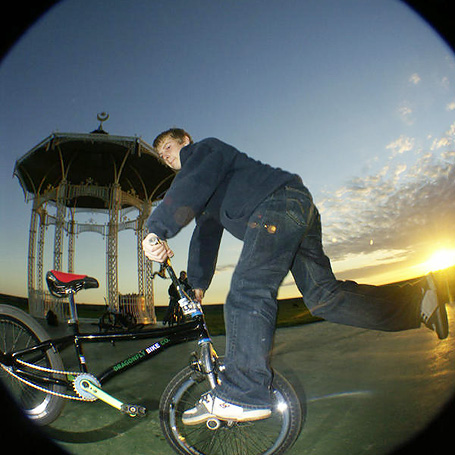 Ridin' into the sunset (© Headhunter)
Did you ride competitevely? And when did you pick up producing again after the BMX break?
"Umm, I kind of 'dabbled' in producing, but i rode a lot from about 2001 to 2006. Around 2003, I got to the point that I'd go travel around the UK entering contests for fun. I never won, but I never came last. It was the buzz of going to places, meeting new people and riding."
What brought you back to the computer and making music?
"Dubstep! But it isn't as simple as that. My friend Whiteboi got offered a radio show [on Bristol pirate BS1] and asked me to do it with him. Which was nice, since I hadn't dj'd in years! I thought, I should play some new music rather than old D'n'B. So I went and bought a bunch of grime tunes off the internet to play. The MCs who would come down seemed to appreciate what I was playing. But the grime I was playing was … rather under-produced. I thought I could do it better. so I'd go home make a 'grime' track and then play it the following week on the radio. After three weeks, I thought what I had was different. So I looked to give it out to some people and somone said: "This is not grime, it's dubstep!" Dub?? what?? I was told to contact Pinch. I had no idea who Pinch was, but I did [get in touch with him]. And he said: "If you keep this up you will go pretty far." So I made dubstep by accident! I made it before I even knew what it was. After doing the radio show for three months, [the station] eventually got raided, which was at the time I just made a tune called "7th Curse". That tune went on to be the first tune I had released on mine and Tech Itch's label, Ascension."

Headhunter: "7th Curse" (Ascension, 2006)
Weren't you sharing a house with Tech Itch then?
"Yeap, I was living with Tech itch and Jakes."
Did Tech Itch have his studio in the place?
"Yeah. I learnt a lot from being there! He told me some things that helped [me] big time. It also kind of got me listening to some d'n'b again, because it was in constant production there. But, Tech Itch got into dubstep through me. I'd say he was probably the first d'n'b producer to make dubstep. At that time, the sound was pretty spatial, and not many people were playing with distorted sounds. But Tech Itch took his d'n'b suound and made it dubstep.
I was really into the Virus, Ed Rush and Optical sound, as well as Teebee – and psytrance which gave me ideas for my sound. After 2 releases on Ascension, I had a phone call from Tempa to come [and] meet [them]. This was in March 2006. And from there onwards I've been signed to Tempa."
I think you can hear that psytrance influence you mentioned in your bass lines.
"Yeah, the bass has to be twisted (at times)! I'm not one for single note basslines, I find them a bit too boring. I like psy trance, but I only like the deep, twisted shit. None of this Israeli neo crap that goes nowhere! It builds up for 2 minutes and then nothing happens. Any of the Scandinavian artists are quality!"
Let's get back to the Tempa link-up…
"Hahaha. Yeah, enough of psytrance. You have no idea how much shit I get for that. But I can take it. It's why my music sounds different to a lot of other producer's stuff, I think. I try to take the best bits of things and put them into my music."
Like with techno as well?
"With it all. I'm sure you can take someone in India, for example, [and] ask them to make dubstep. And they woud be able to use sounds I'd usually dismiss, but use them in a way so that I would [be able to] understand it.
I dont really listen to dubstep. But all the other stuff I listen to, I try to bring into dubstep. I can play somone who likes dubstep one of my songs and they can like it. But I can play them psytrance and they [would probably] hate it. Yet, my music has taken influence from that genre."
Okay, so Tempa got in contact with you…
"Yeah, Sarah (Lockhart, Tempa label head, FWD>> promoter) rang me and asked to meet me. And then, I went along to a FWD>> with her and met Youngsta. I gave him a cd of new tunes, and they both loved the new stuff."
Did she ring you because of the Ascension releases?
"Yeah, she heard N-Type play "7th Curse" at FWD>> and wanted to know who made the tune. I gave it to him about a month before when he came to play in Bristol. So it all happend pretty quick: In November 2005 I made some 'grime' to play on my radio show, then in April 2006 I was on Tempa. My only worry was making sure I could keep coming with good new tunes."
Seems like you managed somehow…
"I had a period when I'd make very similar sounding tunes, because I thought that was what Tempa wanted. That warping bass sound. Then I realized they wanted me to do whatever I wanted and after that point I just made crazy beats, like "Locus Lotus" for example."

Headhunter: "Initiate EP" (Tempa 2007)
You said "crazy beats" – where do the ideas for new beats and tunes come from?
"Umm, it comes from the reason why I get into most things – from being bored. LOL, just playing! But my music is influenced by what im listening to at the time. Techno has played a big part lately. This week, I've done two gigs, both [have been] techno gigs. And now I'm making a kind of hybrid of techno and dubstep. It's at 130 bpm but got the same kind of drum rhythm as dubstep.
How did that come about?
"The dub techno stuff started recently [for me]. Appleblim got me into it, he told me about Basic Channel and then i did my own research. I dont want to copy the sound, but I do like the ideas I hear and the process they use to create these sounds and atmospheres in their music."
Let's talk a bit about recent and future releases. The last thing that came out was your collaboration with Ekelon?
"Yes."
He's from Greece, right?
"Yeah, from Athens. It's funny how it happened! I went to Greece last October to dj and the promoter said, I need to meet his friend, he's made a dubstep tune – his first tune. So I went to his home, he played me "Timewarp" and i fell in love with the sounds. I felt the bass and beats needed an overhaul, so I took the parts and kind of remixed it. But we decided to put it out as a collab, because that's how collabs work, really."
I like that breakdown towards the end of the tune, it's mental!
"That bit goes off every time i play it! People just scream when that part happens."
What about the album project, how's that going?
"The album … is done! It just got mastered last week and it's coming out (hopefully) in October."
When we talked the last time, you said it's going to be a "proper" album with a build up and various tempos?
"There are 2 versions [of the album]. One on CD and one on vinyl. The CD is a bit more of a journey. The tempos vary from 115 bpm to 140. I've only included a few techno tracks on there, but im not sure if they are techno or just a mash-up of influences. Because even though they are at the same tempo as techno (129 bpm for example), they still follow a similar vibe to what I have in my dubstep tracks. So, it's a mash-up, really! But it suits a CD very well, it's good to listen to at home or in the car. The vinyl is more focused on the DJ and includes tunes that are not on CD but are good to mix with and to hear out in the club. Thankfully, I'm able to pull of such variation in my sound to cater for both parts.
The album is called "Nomad", because all the tunes were made in different places and I dont actually live anywhere. I kind of go from place to place, gig to gig."
So you're doing most of your stuff on your laptop?
"Everything! I think one of the tracks was made in Berlin and ended up being finished in Athens."
What's the difference between Bristol and London in your opinion, especially in terms of dubstep?
"Less people! I don't really know what the difference is, because it's not as easy as saying it's this sound in Bristol, and another sound in London. In Bristol there are sooo many producers who each have their own sound and [are] not copying anyone else. The biggest difference, to me, seems [to be] that because Bristol is smaller, it's easier to have more of a community feel to things, especially with the dubstep scene. The producers go to the nights, it's never hard to call somone up and go see them. That adds to the scene here, that everyone knows everyone and you can hear what is going on. Maybe I'm wrong and it's similar in London. But, this is what I see in Bristol."
So would you ever leave that behind and move to London?
I dont want to live in London. I think if I did, it would be for a short time.
Why?
"If I moved there, im sure that I'd get sick of it after a short time. Just the cost of living there is ridiculous! In Bristol, you've got this seven mile radius and in that seven miles there are a lot of music producers. I think I like being around so many like minded people. It makes you wanna be creative.
Berlin is tempting, though. I was talking to Paul Rose [who moved to Berlin in 2007] and Rob Robotic about it. Berlin is an idea!"
See you soon in Berlin then!
"Hahaha – yeah, we'll see!"
"Nomad" will be out on Tempa in October. Tracks from the album can be heard on Headhunter's Myspace or in his excellent "Hello World!" mix for BBC Radio 1 (download).