Januar 05, 2006Grime,Propaganda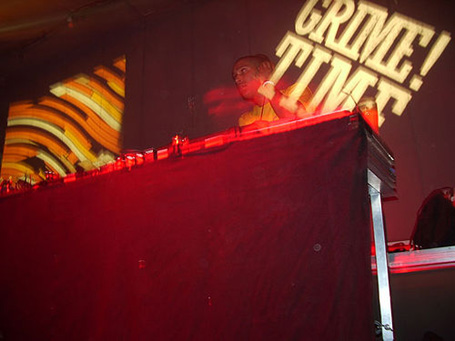 Cameo @ GRIMETIME – Foto: © Voco Me!
Grime geht ins Theater! Im Rahmen der Reihe "Beyond Belonging – Migration" veranstalten die GRIMETIME-Macher im "Hebbel am Ufer (HAU)" einen Showcase mit Resident-DJ Cameo und den MC s Purple (der auf der gerade erschienenen Mix-CD "Eye Of The Tiger Vol. 1" gefeatured wird), L-Man (N Double A) und Rugrat (Musical Mob). Lokaler Support kommt u.a. von Jahcoozi (Kitty Yo), Quio (AGF/Undergound Essentials) und G-Serve (Twen FM/Underground Essentials). Hingehen!
Grime & Beyond/GRIMETIME London–Berlin
Samstag, 7. Januar 2006, 22 h
Hebbel Am Ufer (HAU 2)
Hallesches Tor 32
10963 Berlin
(U-Bahn Hallesches Tor – U1/U6)
DJ CAMEO (BBC-1Xtra/London)
MC PURPLE (True Tiger Camp/London)
MC L-MAN (N Double A/London)
MC RUGRAT (Musical Mob/London)
alongside
JAHCOOZI (Kitty Yo)
YANEQ (P-Pack)
QUIO (AGF/Undergound Essentials)
plus dj's
G-SERVE (Twen FM/Underground Essentials)
GAUCHO (Broken Bootlegs)